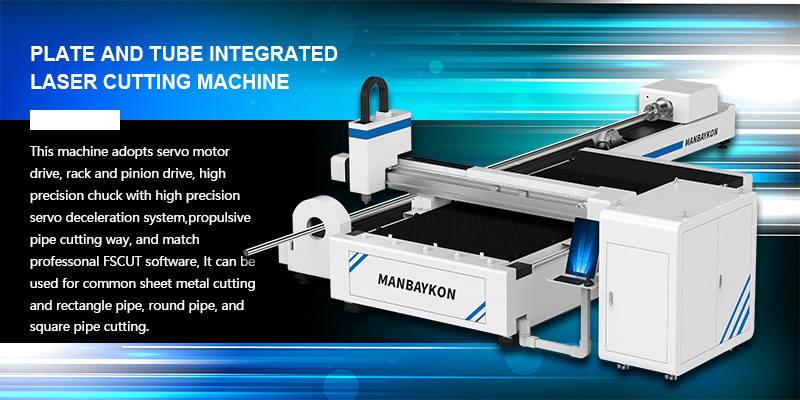 Product description:
This machine adopts servo motor drive, rack and pinion drive, high precision chuck with high precision servo deceleration system,propulsive pipe cutting way, and match professonal FS cut sofeware, It can be used for commen metal plate cutting and rectanglepipe, round pipe, and square pipe cutting.

MAIN FUNCTION:
1.It can cut a number of cylindricatctgies iner irectons a sand diameters on the main pipe to meet the condition that the branch pipe axis trcts wihema p aisi a eica way thatis eccentic o noneccentic.
2.It can out the e ofhe cycaiege aeppetmt the cntons veica and bliqpe intersection between the branc pipe xis and the man ipe axis,eccentric and noneccentic.
3.Can cut slopeintercept face at the end of the pipe.
4.Can cut and weld elbows on theroud pipeand cut oblique surfaces at both ends.
5.It can cut the end of the intersectinginef the branch pipe intersecting with the ring main pipe.
6.Can cut the bevel surface with varying angles.
7.Can cut square hole and waist hole on round pipe.
8.Steel pipe can be cutted off.
9.Can cut all kinds of graphics on square pipe.

| | |
| --- | --- |
| Equipment Type | MK-3015C |
| Laser Wavelength | 1064nm |
| Impulse Frequency | 1-300HZ |
| Minimum Linewidth | 0.15mm |
| Board Process Area | 3000mmx1500mm |
| Board Thickness | 0.2-15mm |
| Tube Diameter | 10-220mm |
| Tube Length | 6000mm |
| Pipe Wall Thickness | 0.2-5mm |
| Power | 380V/50HZ/100A |
| X, Y, Z Axis Geometric Positioning Accuracy | ±0.03mm |
| Repeat Positioning Accuracy | ±0.02mm |
| Cooling Method | Water cooling |




It is installed in the fiber cutting machine's computer box and acts as the center of cyput control system




Fiber laser generator with great and stable performance to have lifespan ove100,000hours. Raycus/Max for choice.(The USA IPGLaser source is optional).






Cast aluminum crossbeam Integral steel mold pressure casting, light,flexible and efficient;High flexibility is beneficial to high-speedcutting of various graphics based on highaccuracy.



Gear Drive
High Transmission efficiency, high accuracy, stable and long service life.





Long use lifetime and accurate route movingYaskawa Servo Moto Our fiber laser machine adopts the Shimpo Servo Reducer fromJapan with low noise when the machine is processing the metalmaterials, After many refinements,it has small size in installationbut high precision function.

Double Chuck Clamping

Clamping round tube 10-160mm. Servo Motor and reducer are driven synchronously to enssure processing accurcay.Both front and rear chucks are pneumatically tightened.